Garage Door off Track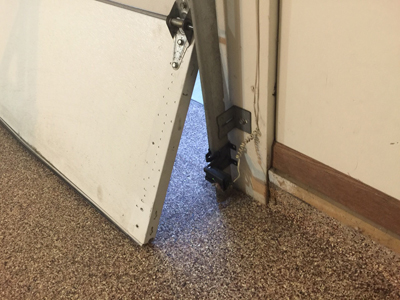 When one of the rollers gets out of the track, the garage door is off track. The door gets stuck and cannot be operated. This issue is not very common. It can occur when the garage door track components are greatly misaligned. This can be prevented with regular readjustment as part of the maintenance routine. As long as the bolts holding the tracks in place are kept tight, the problem should not occur.
In Case of Door off Track, the Roller Has To Be Guided Back to its Place.

The track may have to be widened a bit while the roller may require hammering to fit inside. The repair must be made when the door is open and when the garage door opener is turned off. Garage door rollers which escape the track usually do not get damaged. If damage has occurred, however, these parts will have to be replaced.